I accompany you as your defence lawyer in Essen, in the Ruhr region and nationwide throughout the complete criminal proceedings. I am on your side, fight for your rights, protect and maintain your dignity in this stressful situation.
I know the authority and judicial structures from the inside, I am familiar with its quirks. I always prefer direct communication channels.
Starting on day 1 my team and I assume all communication with the involved authorities as police, public prosecutor's office or the court concerned with your case and give you a competent and realistic assessment regarding the further proceedings.
SOLUTION-ORIENTED THINKING
At the same time I help you to behave ideally towards police, public prosecutor's office and court and to achieve the best possible result. Continuous training helps me to ensure a high level of competence.
Biographic information
Baris Gültekin, specialist lawyer in criminal law
Fields of law
Criminal law, criminal traffic offences, administrative offences
Languages
German, English, Turkish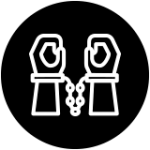 CRIMINAL LAW
Gang crimes
Import, dealing and possession of narcotics, international cocaine trafficking, cannabis plantation, labs or drug kitchens
Accusations of arms trafficking
Homicides as murder and manslaughter
in case of robbery, blackmailing or human trafficking
Juvenile law and sexual Offences Act
Criminal tax proceedings, e.g. in case of cigarette smuggling
accusations of cybercrimes
defence in investigation proceedings against, house searches, arrest, issue and execution of a warrant of arrest (oral proceedings of habeas corpus)
appeal proceedings regarding parole cancellation
in main proceedings
in accessory prosecution/victim support
as witness assistance, your assistance in case of a witness summons at police, public prosecutor's office or court
criminal complaint and charge
CRIMINAL TRAFFIC OFFENCES
Defence of driving under influence of alcohol or narcotics
in case of causing death by negligence/battery
leaving the scene of an accident
illegal car racing
impairing the safety of road traffic
driving without a driving licence/ban on driving
ADMINISTRATIVE OFFENCES/FINE PROCEEDINGS
speeding and red light violations
cell phone ban and tailgating
defence against possible driving bans
licence's probationary period, retraining seminar
point reduction
Please keep in mind: An emergency in a criminal matter is, if you are faced with an arrest, a house search or similar and an immediate action to save your existence is necessary. For these case my law office offers you the emergency hotline.
In all other matters please contact my office staff during the usual office hours calling the landline number. > Contact